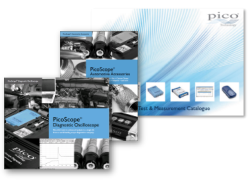 Established in 1991, Pico Technology has become a world leader in the field of PC–based instruments and data acquisition.
We offer all of our customers unbeatable technical support, with our team of experts on call to assist you with your product selection. Our stringent quality controls ensure that you receive the highest quality products with the very best level of service.
Our test and measurement website has full details of our product range, together with many free resources such as tutorials, application notes, videos, science experiments, etc. Our automotive diagnostics website has details of our automotive diagnostics product range as well as various reference resources such as tutorials, waveforms and application notes.
You can order securely online, by fax, by phone or from your local Pico distributor.
Contact Details
Pico Technology Limited is an ISO 9001 registered company.
Pico Technology Limited is a company registered in England and Wales with company number 2626181.